If you're looking for a way to add comfort and fun to your office space, consider getting a bean bag. Bean bags are not just for kids or dorm rooms; they are versatile and stylish pieces of furniture that can suit any environment. Whether you need a cozy spot to relax, a casual seat for meetings, or a creative boost for your work, bean bags can offer you all that and more.  
In this blog post, we'll introduce you to the benefits of bean bags, how to choose the perfect one for your office, and how to incorporate them in your workplace.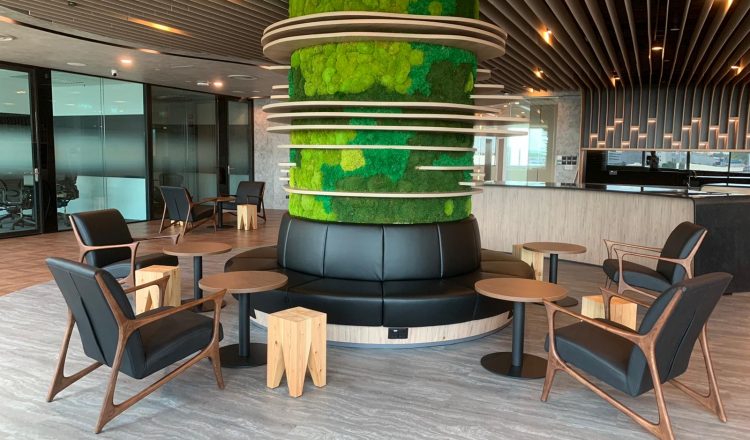 What Are Bean Bags and Why Are They Awesome?
Bean bags are large fabric bags filled with soft materials such as polystyrene beads, foam, or shredded memory foam. They are designed to conform to the shape of the user, providing support and comfort. They also come in various forms, sizes, colours, and fabrics, so you can find one that suits your taste and needs. 
Also, bean bags are an excellent addition to any home or office, offering comfort, style, and functionality. They are affordable and accessible, as they come in various sizes, shapes, designs, and prices. Bean bags are unconventional yet extraordinary pieces. And if that is what you aim for in your workplace, they deserve a place in everyone's life. 
8 Remarkable Benefits of Bean Bags
Bean bags are more than just soft and squishy cushions; they are good for your health and well-being. Below are some of the benefits of using bean bags in your office.
1. They are comfortable and ergonomic.
Bean bags can help reduce stress, tension, and fatigue by allowing you to sit in a natural and relaxed position. They can also improve your posture and blood circulation by supporting your spine and muscles.
2. They improve your posture.
Unlike rigid chairs that force you to sit in a fixed position, bean bags conform to your body shape and allow you to adjust your posture as you wish. This can help prevent back pain, neck strain, and other musculoskeletal problems resulting from sitting for long hours.

3. They reduce stress.
Bean bags can create a relaxing and soothing atmosphere in your office, which can help lower your stress levels and improve your mood. They can also stimulate the production of endorphins, the hormones that make you feel happy and calm.
4. They enhance your creativity.
Bean bags can inspire you to think outside the box and develop new ideas. They can also foster collaboration and communication among your colleagues, as they encourage informal and spontaneous interactions.
5. They save space and money.
Bean bags are lightweight and easy to move around, which means you can change the layout of your office as often as you like. They also occupy less space than conventional chairs, which can help you optimize your floor area. Plus, they are cheaper than most office furniture, which can help you save on your budget.
6. They are flexible and adaptable.
Bean bags can be moved around easily and fit into any space. You can use them as chairs, sofas, loungers, or beds. You can adjust their firmness and shape by adding or removing the filling.
7. They are durable and easy to maintain.
Bean bags are made of high-quality materials that can withstand wear and tear. They are also easy to clean and wash, as most have removable covers that can be machine-washed or dry-cleaned.
8. They are stylish and trendy.
Bean bags can add a touch of personality and flair to your office. They come in various colours, patterns, and textures that match any theme or mood. You can also mix and match different bean bags to create a unique and cozy look. 
How to Choose the Perfect Bean Bag for Your Office
Now that you know the benefits of bean bags, you might be wondering how to choose the right one for your office. Here are some factors to consider:
1. Size
Bean bags come in various sizes, from small ones that fit one person to large ones that accommodate several people. You should choose the size that matches your space and your needs.  
For instance, if you have a small office, you should get a medium-sized bean bag that can double as a sofa or a bed. If you have a large office, you should consider getting several small bean bags to serve as individual seats or grouping them for a lounge area.
2. Shape
Bean bags also come in different shapes, such as round, oval, square, or animal-shaped. It would be best to select the shape that suits your style and preference. If you are trying to achieve a simple and clean look, you may want to get a round or oval bean bag. On the other hand, get a square or animal-shaped bean bag if you want a more modern and funkier look.
3. Material
Bean bags are made of various materials, such as cotton, leather, suede, or faux fur. You should choose a material that is comfortable and durable. In this case, if you want a soft and cozy feel, you can't go wrong if you opt for a cotton or faux fur bean bag. But if you want a sleek and elegant feel, a leather or suede bean bag will get you the best deal.
4. Colour
Bean bags are available in many colours, from neutral tones to bright hues. You should choose the colour that matches your office decor and theme.  
For example, if you have a minimalist and monochrome office, you might want to get a black or white bean bag. You should get a red or yellow bean bag if you have a colourful and vibrant office. 
How to Incorporate Bean Bags into Your Workplace
Once you've chosen the perfect bean bag for your office, you might wonder how to incorporate it into your workplace. Here are some tips:
1. Use them as alternative seats.
You can replace some of your regular chairs with bean bags to create a more comfortable and casual seating arrangement. You can use them for your desk, meeting room, or break room.
2. Use them as accent pieces.
You can also use bean bags as decorative elements to add some colour and personality to your office. You can place them in corners, along walls, or under windows to create some visual interest.
3. Use them as fun accessories.
You can also use bean bags as fun and playful accessories to spice up your office environment. You can use them for games, contests, or prizes to motivate and reward your employees. 
Make Your First Bean Bag Purchase at VCUS! 
If you're ready to chill out in style with bean bags in your office, look no further than VCUS. VCUS is the leading provider of bean bags in Singapore, offering a wide range of high-quality and affordable bean bags for every space. Whether you need a stool in Singapore, a bar stool chair or bar stools in Singapore, or luxury furniture in Singapore, VCUS has it all! 
Don't wait any longer and make your first bean bag purchase at VCUS today and transform your office into a cozy and stylish space. To order, call +65 6746 3302 or email sales@vcus.com.sg. You can also visit their website at https://www.vcus.com.sg/ for more information.